FAQs
What are the primary components of the VLINK® system?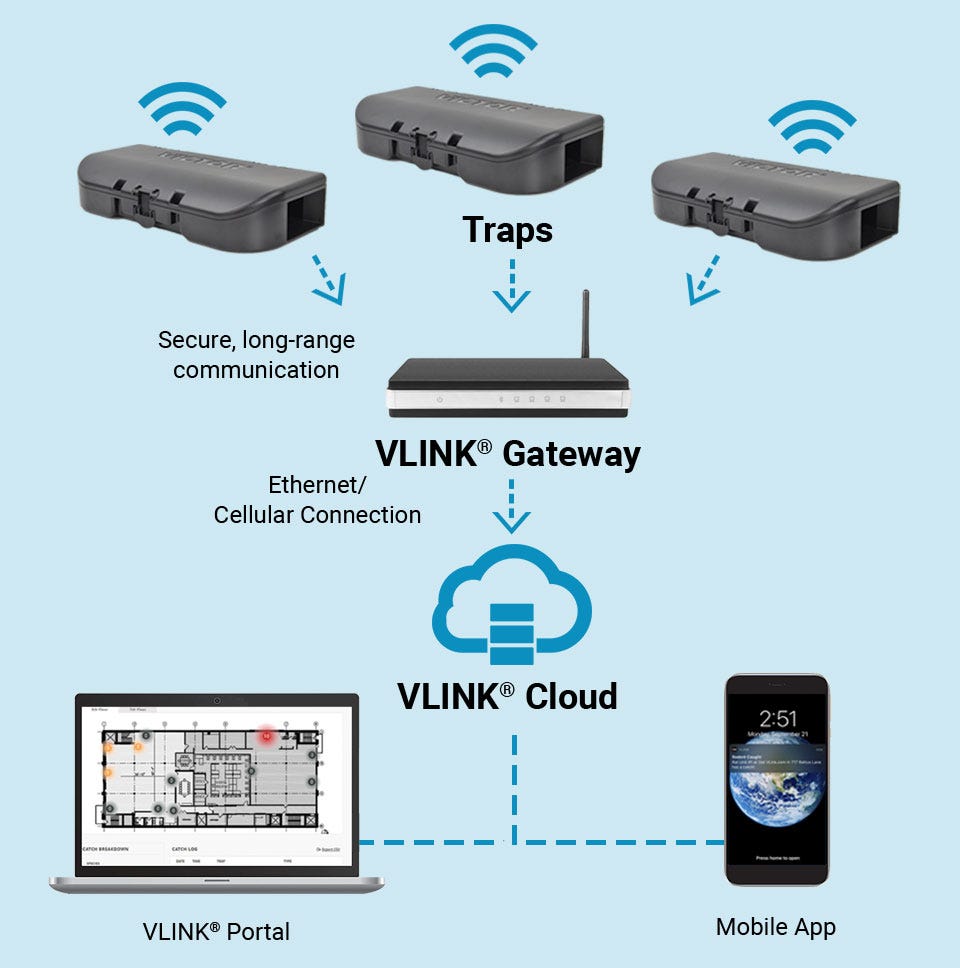 Traps
VLINK® traps are electronic kill devices, meaning they utilize high voltage to quickly and humanely kill rodents that enter the trap. They are equipped with long-range communication which enable them to communicate their status with any VLINK® gateway that's in range.
Gateway
VLINK® gateways communicate with all traps within a facility, up to 100,000 sqft indoors or 0.25 miles outdoors. The information they collect from traps is than forwarded to the cloud database via a cellular connection or network connection if available at the site, where it can be accessed by users from anywhere in the world.
Mobile App
The VLINK® app is available from the iOS & Android stores. It's features include quick trap setup, real-time alerts, and site management.
Web Portal
The VLINKHQ.com portal is available for use with the Chrome web browser, and provides administrative functions such as user management, site creation, report generation and simple analytics.
What is the range between a trap and gateway?
VLINK® traps can typically connect with a gateway that is within 100,000 sqft.
Outdoors, traps can communicate with a gateway up to 1.0 mile away if there are no obstructions, however the range in a typical outdoor environment is approximately 0.25 miles. Placement of the trap, placement of the gateway, and the surrounding environment will all have an impact on the trap to gateway range.
How can I maximize the range between a trap and a gateway?
Placement of the gateway is key for maximizing system range, as the placement of the trap may not always be under your control. Here are a few tips for gateway placement:
The higher the better – there tends to be more obstructions at ground at most facilities, both inside and outside. Placing the gateway higher typically limits the number of objects a trap signal must pass through before reaching the gateway. Less shelves, equipment, bushes, people, etc.
Avoid certain materials – placing the gateway within a few feet of signal obstructing materials such as metal or dense concrete will significantly reduce the range in the direction of that material. It is best to mount the gateway on materials which are less obstructive, such as wood or drywall.
Centralize on your site – placing the gateway at the center of your site will minimize the distance traveled from the furthest trap to the gateway.
If a suitable placement cannot be found which provides reliable communication between the gateway and traps, consider adding a second gateway to the site.