FAQ's
VLINK™ Pest Network FAQs
Why use a VLINK™ Pest Network system?
VLINK™ integrates technology into devices that have proven to be the standard in rodent control. The addition of reliable connectivity and 24/7 monitoring of a rodent control program allows for the technician or user to save resources and access real-time data. The benefits of a VLINK™ system include time, labor, and cost savings while providing the highest quality rodent control program possible.
What are the primary components of the VLINK™ system?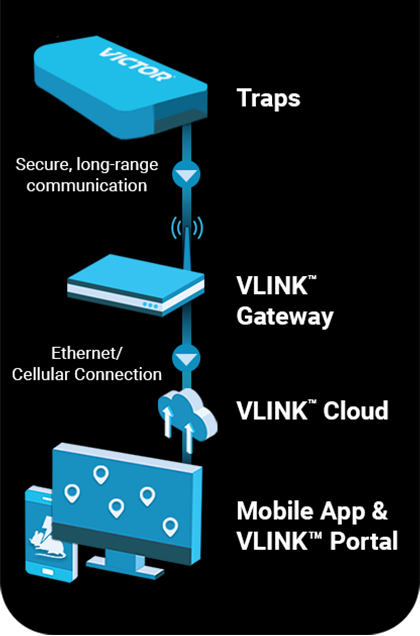 Traps
VLINK™ traps are electronic kill devices, meaning they utilize high voltage to quickly and humanely kill rodents that enter the trap. They are equipped with long-range communication which enable them to communicate their status with any VLINK™ gateway that's in range.
Gateway
VLINK™ gateways communicate with all traps within a facility, up to 750,000 sqft indoors or 0.75 miles outdoors. The information they collect from traps is than forwarded to the cloud database via a cellular connection or network connection if available at the site, where it can be accessed by users from anywhere in the world.
Mobile App
The VLINK™ app is available from the iOS store. It's features include quick trap setup, real-time alerts, and site management.
Web Portal
The VLINKHQ.com portal is available for use with the Chrome web browser, and provides administrative functions such as user management, site creation, report generation and simple analytics.
How many VLINK™ traps can be deployed at one location?
There is no limit to the number of traps that can be deployed at a location. Different types of VLINK™ devices can be used within the same location using the same gateway.
How many VLINK™ traps can connect to one gateway?
There is no limit to the number of traps that can connect to one gateway.
What type of alerts are available?
The VLINK™ mobile app sends push notifications when there is activity on the device. Additionally, a daily email is sent summarizing all activity within the last 24 hours.
Purchasing VLINK™
How can I purchase VLINK™?
We offer multiple options to purchase VLINK™ products:
You must log in or create an account to purchase products on vlink.victorpest.com. You can do this before you begin shopping by visiting the Customer Login portal; otherwise, you will be prompted to login or create an account during the checkout process.
What are the different ways to pay for VLINK™?
VLINK™ offers three different purchase options for traps. Options include purchasing traps up front, a 12 month finance program, and a 24 month finance program. Contact your VLINK™ Sales Rep to help you determine which one is the best for you.
Revision post-site updates: Online purchases require credit card payment. An option to use our 3rd party billing platform, Klarna is available for those customers who wish to finance their purchase and pay over an extended period of time. To order using a company Purchase Order, please contact a VLINK™ Sales Representative.
Getting Started
How do I get VLINK™ Admin Portal Login?
Once your order has shipped you will receive an email to confirm registration and set a new password for your VLINK™ Admin Portal.
How do I Access the VLINK™ Admin Portal?
The VLINK™ Admin Portal is the webpage view for all your VLINK™ sites, reports, and site details. The VLINK™ Admin portal can be accessed at: https://portal.vlinkhq.com/#/Login.
Can I reset my password for the VLINK™ Admin Portal?
There is a password reset feature on the VLINK™ Admin Portal login page. Select "forgot password" and enter your email address. You will receive an email with the password reset. If you do not receive an email, please check your spam/junk mail folder.
How do I add team members to my VLINK™account?
Using the Team tab on the VLINK™ Admin Web page select "Add Team member." Enter the new member's information and click submit. The new member will receive an email to accept the invitation and create a new password. TIP: this email is time sensitive and will expire. Let the team member know that they will be receiving an email login from alert@alert.victorpest.com. The email may also get caught in a spam or junk mail folder. If the link is expired the new team member can use the password reset feature to request a new password.
How many team members can I add to my account?
An unlimited number of team members can be added to each account.
Can I add users as view only?
You can setup an individual to receive a daily email summarizing the previous 24-hours of VLINK™ activity.
Are there different Permission Levels within the VLINK™ Network?
There are three levels of permission.
VLINK™ Admin - Grants total rights to create sites, edit sites, add traps, move traps and receive notifications. The user has full access to VLINK admin webpage and mobile app.
VLINK™Tech - Grants rights to receive alerts, make notes, and enter kill information. The user has full access to VLINK admin webpage and mobile app.
View Only – Receives daily email summarizing the previous 24 hours of VLINK™ activity. No access to mobile apps or admin page.
Trap FAQs
Is there a Warranty on the VLINK™ traps and Gateways?
There is a one-year warranty on VLINK™ traps. Warranty covers manufacture defaults and excludes damage caused by users.
How long will the batteries last?
Tunnel traps include 4AA lithium batteries. Batteries in the VLINK mouse tunnel trap will last 3 years or 500 kills. The VLINK™ rat tunnel trap will last 3 years or 250 kills.
Does the Rat Tunnel Trap also catch mice?
Yes, the VLINK™ rat unit will catch mice and is capable of eliminating two mice per setting.
Gateway FAQs
How do I install my VLINK™ gateway?
VLINK™ Gateways are preset prior to shipping. All that is required is an available wall outlet for power. You will also want to screw in the external antenna to ensure best reception for the gateway. TIP: Read how can I maximize range between trap and gateway to optimize gateway placement at your site.
What is the range between a trap and gateway?
VLINK™ traps can typically connect with a gateway that is within 750,000 sqft.
Outdoors, traps can communicate with a gateway up to 1.0 mile away if there are no obstructions, however the range in a typical outdoor environment is approximately 0.25 miles. Placement of the trap, placement of the gateway, and the surrounding environment will all have an impact on the trap to gateway range.
How can I maximize the range between a trap and a gateway?
Placement of the gateway is key for maximizing system range, as the placement of the trap may not always be under your control. Here are a few tips for gateway placement:
The higher the better – there tends to be more obstructions at ground at most facilities, both inside and outside. Placing the gateway higher typically limits the number of objects a trap signal must pass through before reaching the gateway. Less shelves, equipment, bushes, people, etc.
Avoid certain materials – placing the gateway within a few feet of signal obstructing materials such as metal or dense concrete will significantly reduce the range in the direction of that material. It is best to mount the gateway on materials which are less obstructive, such as wood or drywall.
Centralize on your site – placing the gateway at the center of your site will minimize the distance traveled from the furthest trap to the gateway.
If a suitable placement cannot be found which provides reliable communication between the gateway and traps, consider adding a second gateway to the site.
VLINK™ Email FAQs
Why should I subscribe to VLINK™ emails?
Join the VLINK™ email list for the latest news on VLINK™ product innovations, business case studies, helpful resources, and more.
How often will I receive VLINK™ emails?
We currently send about 1 VLINK™ email per month, though you may occasionally receive additional emails pertaining to recent orders or account activity.
How will my email address be used if I sign up?
We will only use your email address to share relevant VLINK™ information as described above. You will never receive spam emails from us and we will never share your email with others.
Can I opt out from VLINK™ emails?
You can unsubscribe from VLINK™ email communications at any time by clicking the "Unsubscribe" link at the bottom of each message.
Note: You cannot opt out of receiving emails regarding order and shipping information that occur after an order has been placed.
What if I need to change my email address?
Your email address is used to identify you as a VLINK™ email subscriber and cannot be changed.
If the email you used to sign up for VLINK™ emails is incorrect or has changed, you will need to sign up again with the correct email address.
Further Assistance Required?
I need some help with selecting products, who do I contact?
All VLINK™ reps are fully trained to provide you with the answers and solutions that you need. Please complete the Contact Us form on the website and someone will reach out shortly after.
I have a technical or trouble shooting question.